| | |
| --- | --- |
| "Frodo" | "Kela" |
N S FIN NORDuch

FINW-06

Odenhills Frodo

S DKuch

Macis Zam Mont Morzy

D VDH CH

Ulfilas Vom Stockle

Yantan

Hanna Hottentott

av

Hiselfoss

Dajan V D Hausmatt

Sennetta's Noa-Noa

N Such

Chianti Catinka av Hiselfoss

Multi CH MultiW

Sennetta's Sixten

Simiti's After Eight


| | | | | | | | | | |
| --- | --- | --- | --- | --- | --- | --- | --- | --- | --- |
| Navn | Birth | 1week | 2weeks | 3weeks | 4weeks | 5weeks | 6weeks | 7weeks | 8weeks |
| No.1-f | 490g | 690g | 1034g | 1757g | 2412g | 2990g | 4100g | 5950g | 7100gr |
| No.2-f | 525g | 710g | 1055g | 1603g | 2225g | 2840g | 4000g | 5850g | 6900gr |
| No.3-f | 579g | 782g | 1218g | 1860g | 2883g | 3610g | 5200g | 7050g | 8200gr |
| No.4-m | 496g | 718g | 1068g | 1606g | 2378g | 3150g | 4400g | 6250g | 7100gr |
| No.5-m | 556g | 794g | 1257g | 1863g | 2760g | 3530g | 5100g | 7200g | 8400gr |
| No.6-m | 595g | 875g | 1355g | 1968g | 2777g | 3420g | 4700g | 6500g | 7900gr |
| No.7-m | 700g | 1010g | 1482g | 2174g | 3150g | 4040g | 5600g | 7500g | 8900gr |
| No.8-m | 602g | 820g | 1219g | 1812g | 2733g | 3430g | 4650g | 6450g | 7900gr |
| No.9-m | 582g | 770g | 1179g | 1839g | 2588g | 3122g | 4600g | 6350g | 7900gr |
| No.10-m | 608g | 735g | 1160g | 1940g | 2635g | 3340g | 4800g | 6450g | 7600gr |
| No.11-m | 616g | 756g | 1113g | 1787g | 2645g | 3570g | 4600g | 6900g | 8100gr |
8uker/8weeks

Vi er på flyttefot
*We are getting ready for our new homes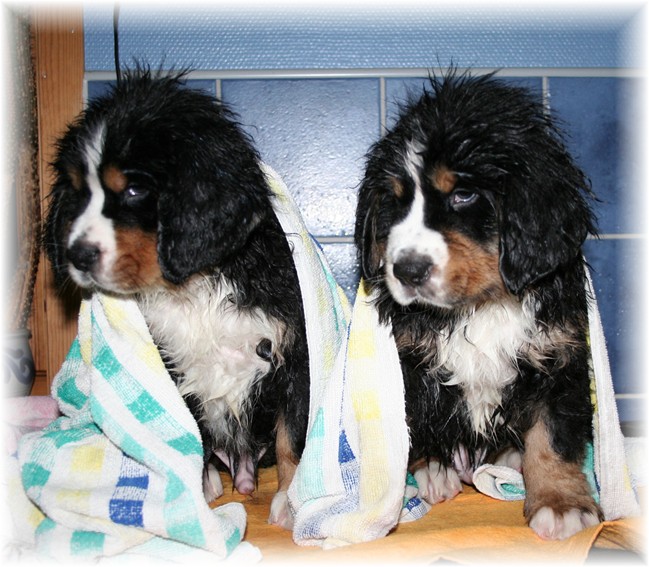 Wello Wellington & Wimbo Winner har tatt et bad / have had a bath
Ronja - Waila Waldina(nr.1) - har reist hjem til Britt og Kolbjørn på Kråkerøy utenfor Fresdrikstad. Hun er nok like oppfinnsom som sin navnsøster Ronja Røverdatter, og er ikke redd for å utforske verden på egen hånd.
Ronja - Waila Waldina(no.1) - has moved in with Britt and Kolbjørn at Kråkerøy near by. She is a girl who knows very well what she wants!
Kira - Wally Wallflower(nr.2) har bosatt seg hos Grete, Mari og Svein på Sætre utenfor Oslo. Der vil hun få et aktivt liv med masse turer i skog og på fjell. Kira er deres andre berner.
Kira - Wally Wallflower(no.2) - will have an activ life with Grete, Mari og Svein, with a lot of walks in the forest and up in the mountains.
| | |
| --- | --- |
| | Dare er trygt på plass hos Sachiko og Masaaki i Kyoto, Japan. |
Wini Winnova(nr.3) - Dare - ble på Hiselfoss noen uker ekstra. I mars reiste hun til Japan med Masaaki Tamada.
Wini Winnoa(no.3) - Dare - stayed at Hiselfoss some extra weeks. But, in March she went home with Masaaki Tamada to Japan.
Warro Warrior(nr.4)har blitt samboer med Jon i Oslo. Han har allerede startet sin yrkeskarriere, og vært med på jobb på Gardemoen. Lyder navnet Bamse.
Warro Warrior (no.4) lives with Jon in Oslo. He has already been with to work at Gardemoen. Listen when you call for Bamse.
Wello Weelington (nr.5)ble med Knut Arne hjem til Ann Kristin Tobias og lille Espen i Hardanger. Der lyder han navnet Balder.
Wello Wellington (no.5) went home to Ann Kristin , Tobias & Espen together with Knut Arne. He will come when you call for Balder
Wolf Wonderboy(nr.6) - Nord -har flyttet til Slovenia med Ursa. Der bor han også sammen med berneren King.
Wolf Wonderboy(no.6) - Nord- has moved to Slovenia together with Ursa and the bernese King.
På Hvam, Jessheim bor Wee Winston(nr.7) sammen med Marina, samboer og to døtre. Disse møter vi nok på utstilling en gang i fremtiden.
Wee Winston(no.7)lives at Jessheim not far away from Oslo with Marina and her family.
Wimbo Winner (nr.8) bor også i Oslo sammen med Erik, Odny, Odd Erik & Erlend. Erik hadde en fødselsdag han nok aldri vil glemme - dagen han hentet Wimbo.
Wimbo Winner (no.8) lives in Oslo as well, together with Erik, Odny, Odd Arne & Erlend. Erik had a birthday he never will forget - the day he picked up Wimbo.
Tommy, Julie & Jonas vil med god hjelp av Morten Minstemann av Hiselfoss ta godt vare på Wobo Walker(nr.9) - Labbetuss - nede i Fredrikstad.
Tommy, Julie & Jonas will - together with Morten Minstemann av Hiselfoss - take good care og Wobo Walker(no.9) - Labbetuss.
Woody har kommet trygt fram til Canada etter en lang reise på egen labb. Nå venter vi på bilder av ham sammen med hans nye familie.

***

Woody has arrived safely in Canada. We are waiting for pictures of him and his new family all together.
Woody Wiseguy(nr.10) er klar for turen over til Canada. Der vil ha bli mottatt av Trish & Dave på
Woody Wiseguy(no.10) is ready to go to Canada where Trish and Dave are waiting for him at
Åtte år uten berner i huset. Nå har Wims Whimsey(nr.11) - Balder - gjort sitt inntog hos Anette & Bjørn og sønnene Andreas & Aleksander i Stavanger.
Eight years without a bernese in the house. But now Wims Whimsey(no.11) - Balder - has moved in with Anette & Bjørn and their sons Andreas & Aleksander in Stavanger at the west coast.
7uker/7weeks

Om vi vokser? Se selv! / Are we growing?
No.1

No.2

No.3

Nå begynner vi å bli riktig så flinke til å stå pent. Vi trener hver dag.

På onsdag var nr.9 hos veterinæren og tok et bilde av labben sin. Der mangler det en tå, samt et lite bein i den sisite tåen. Men jeg skal nok klare meg bra med det som er.

***

We are beginning to be very good at standing nice. We are training every day.

At Wednesday no.9 was at the vet and took a x-ray at his foot. He is missing one toe, and a small bone in the last one. But, he is ready for the big world.

No.4

No.5

No.6

No.7

No.8

No.9

No.10

No.11
6uker/6weeks

No.1

No.2

No.3

Nå har vi flyttet opp til resten av flokken. Arbeidsfordelingen er som følger; Mamma sørger for melk, mens Ola, Lillemor og Mina vasker og steller med oss. Vebjørn vil gjerne leke litt, men han er mye større enn oss! Line titter bare litt over kanten.

Vi liker oss godt ute, og i dag kom det snø! Kjempemoro!

***

We have been moved up together with the rest of the crew. Mum still give us the milk, but Ola, Lillemor and Mina do all the nursing. Vebjørn wants to play, but he is much bigger than us. Line is only looking over the edge!

We spend some time outside, and today we played in the snow! That's fun!

No.4

No.5

No.6

No.7

No.8

No.9

No.10

No.11
5uker/5weeks

No.1

No.2

No.3

Vi har beøk av Hilde - Kennel Nellyvill - og det er Ola gla' for! Dietten - som Gro hadde planlagt - er skrinkastet! Vi både spiser og drikker godt! Selskapet er det ingen ting å utsette på!

***

We have visit from Hilde -Kennel Nellyvill - and that makes Ola very happy!

Gro's diett is forgotten! We eat, drink &have a very good time!

No.4

No.5

No.6

No.7

No.8

No.9

No.10

No.11
4uker/4weeks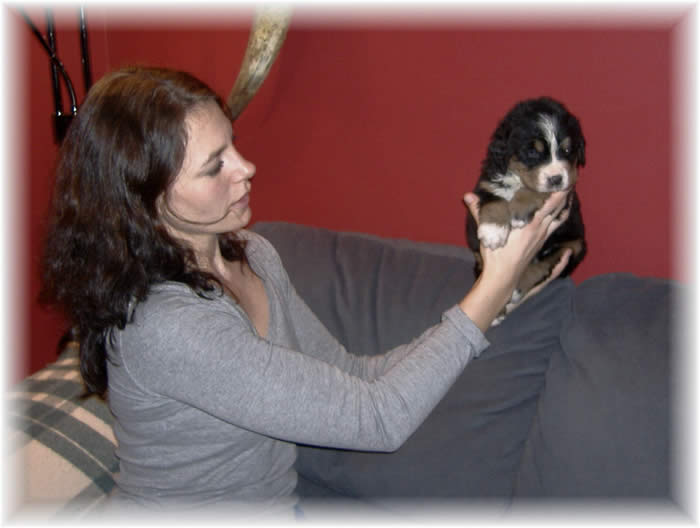 Denne gangen var det Julie som hjalp til med å ta bilder, og det kan dere tro Marthe og Børge var glade for!
Valpene er veldig rolige. De spiser, gjør noen foretninger og leker litt med hverandre - men sover mesteparten av døgnet! Vi har hatt en del besøk, og valpene liker selvsagt å bli kost med! Men, fortsatt er favoritthobbyen å sove!
no.1

no.2

no.3

This time it was Julie who helped taking the pictures, and Børge & Marthe were very satisfied with that!

The puppies are still very calm, they eat, do some business and play a little bit! But still sleeping most of the day & night!

We have had a lot of visitores and - of course the puppies - like the hugging! But, their favourite hobby is sleeping!

no.4

no.5

no.6

no.7

no.8

no.9

no.10

no.11
3uker/3weeks

Valpene har nå økt vekten sin bra, og de får tre måltider pr.dag med fast føde! Det smaker stort sett veldig godt! Hanne nr.9 har en liten defekt på sin venstre framlabb, men han klarer seg bra enn så lenge! Kommer seg like godt fram som de andre. Vi vil selvfølgelig undersøke ham nøye før han evnt forlater oss!
***
They have now increased their weight well, and they get meals three times every day! No.9 has a defect on his left forfoot, but he walks as good as the others! We will of course do an examination for him before he will leave us!
No.1 (female)

No.2 - kinktail (female)

No.3 (female)

No.4 (male)

No.5 (male)

No.6 (male)

No.7 (male)

No.8 (male)

No.9 - liten defekt v.fr.labb/

small defect left forfoot (male)

No.10 (male)

No.11 (male)

2uker/2weeks
Valpene vokser, har fått øyer og er oppe på beina og går! En har til og med tatt seg en tur på utsiden av valpekassa.
Det er ikke den største tilveksten, men nå har vi begynt å gi litt geitemelk i tillegg! De har også fått sin første markkur!
***
The puppies are growing, have opened their eyes and are up on their legs! One of them has even been a trip outside the puppybox all by himself!
We have started to give them some extra milk! Hanna do her best, but I do not think it is enough for all of them!
| | | | |
| --- | --- | --- | --- |
| No.1 | No.2 | No.3 | |
| No.4 | No.5 | No.6 | No.7 |
| No.8 | No.9 | No.10 | No.11 - 2weeks 5 days |
1uke/week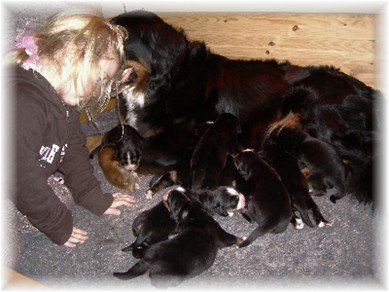 tispene/females no.3-2-1

Hanna er en flink mor, og sørger for all mat og stell på egen hånd!

Mille holder henne gjerne med selskap!

***

Hanna is a good mum, and she takes care of all the nursing by herself!

Mille likes to keep her company!

hanner/males no.5-4

hanner/males no.7-6

hanner/males no.9-8

hanner/males no.11-10