T-kull / T-litter
f.07.05.2006

| | |
| --- | --- |
| "Lillemor" | "Houston" 20mnd |
Macis Houston

S FINuch

Kalle Kaluha

av

Hiselfoss

Snorre

N S DK NORD INTuch

Enslige Evelina av Hiselfoss

DECH VDHCH

Ulfilas vom Stockle

N DK INTuch

Ille Ville Isprinsesse

av

Hiselfoss

Such

Doremis

Tabasco Birkson

Birk

LP1 LP2

Doremis

Love Me tender

8uker / 8weeks
Vi er på flyttefot, men noen bilder ligger på et kamera hvor ledningen til PC'n er sporløst forsvunnet!
* We are moving to our new homes, but some of the pictures are on another camera!
8100gr

Ida Gøtze Jansson i Vallentuna, S er den stolte eier av Tuffe Tyra!

Ida in Vallentuna,S is the new prud owner of Tuffe Tyra!

8000gr

Tapre Trultemor beholder vi selv, men hun bor hos Tove & Jan her i Rakkestad.

*

We just had to keep Trulte for ourself, but she stays with Tove & Jan in Rakkestad.

8900gr

Tobias Talisman har reist med Ewelina og Jarek til Polen!

Tobias has gone with Ewelina and Jarek to Poland!

8600gr

Tia Tøysejente har flyttet til onkel Legolas, og sammen skal de holde styr på Tore og Inger Anne!

Tia has moved to uncel Legolas, and together they will try to take care of Tore and Inger Anne!

8950gr

I Polen har Malgorzata, Misia and Robert tatt imot Tolianna Trusful med åpne armer! Kanskje kan hun fylle litt av tomrommet etter Oline!

*

Malgorzata, Misia and Robert have got their Tolianna Trustful!

She can not be a new Oline, but I'm sure she will have another big place in their hearts!

7uker / 7weeks
Tobias Talisman

(male)

7300gr

6uker / 6weeks
| | | |
| --- | --- | --- |
| No.1 - 5300gr | | No.3 - 5300gr |
| Male - 5700gr | No.5 - 5700gr | No.6 - 6000gr |

5uker / 5weeks
| | | |
| --- | --- | --- |
| No.1 - 4096gr | | |
| No.3 - 4150gr | | |
| Male - 4600gr | | |
| No.5 - 4590gr | | |
| No.6 - 4627gr | | |

4uker / 4weeks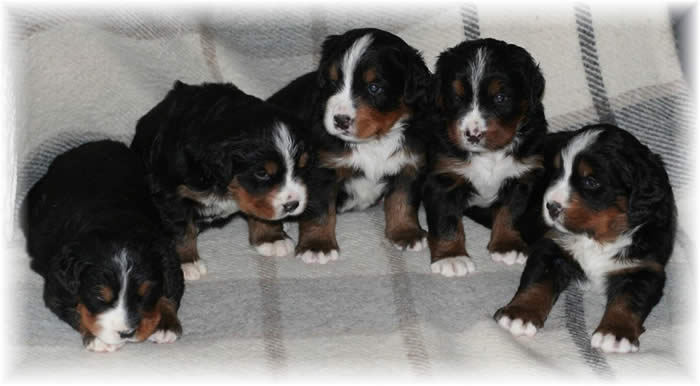 No.1 - 3170gr. No.2 - 3440gr. Male - 3670gr. No.5 - 3680gr. No.6 - 3625gr
Vi har flyttet sammen med Mina og valpene hennes! Utelivet på verandaen har også begynt!
To mammaer og en storebror + tippoldemor Lina - kan vi ha det bedre?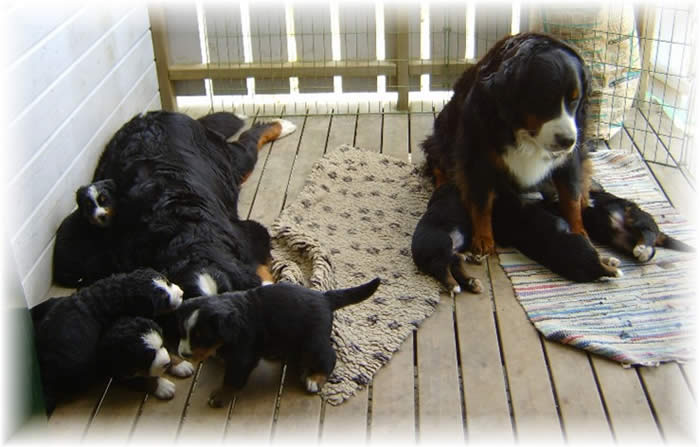 We are now living together with Mina and her puppies, and we have been out on the porch! Two mothers, one big brother and grand grand grandmother Lina - can life be better?

3uker / 3weeks
Her er alt under kontroll! Fast føde smaker godt, og storebror Ola har fått lov til å hilse på oss over kanten på kassa! Nå er det ikke lenger bare mamma som betyr noe for oss her i vår lille verden - som blir større for hver dag som går!
***
Everthing is under control! We have started to have something more to eat than milk! It tasts good! Our big brother -Ola - is allowed to say hello over the edge, but mum keeps an eye on him. It's no longer just mum who means anything to us, and our little world is getting bigger evry day!
| | | |
| --- | --- | --- |
| NO.1 - 2169gr | | No.3 - 2280gr |
| Male - 2465gr | No.5 - 2414gr | No.6 - 2600gr |

2uker / 2weeks
No.1 - 1432gr

Vi har det rolig og greit i valpekassa, men oppdretteren har det visst travelt om dagen!

We are all doing fine, but the breeder is more busy - we guess!

No.3 - 1487gr

No.5 - 1706gr

Hann/Male - 1791gr

No.6 - 1795gr

1uke / 1week
Nr.1 - 935gr

Alt er bra, valpene er rolig og får all den maten og det stellet de trenger!

Everthing is fine! The puppies get all the food and care they need!

Nr.3 - 933gr

Nr.4 - 1068gr (male)

Nr.5 - 1091gr

Nr.6-1140gr

Dette kullet er kanskje litt av en sensajon?
Etter en paring med Houston, snudde jeg nesen hjemover mens Lillemor skulle tilbringe noen dager hos sin utvalgte! Så lett skulle det vise seg ikke å være. Da jeg nådde Ørebro på vei hjem fikk jeg en fortvilet Cilla på telefonen. Lillemor hadde stukket av!
For å gjøre en lang historie kort: Lillemor tilbrakte 14 dager på "frifot", mens jeg pendlet Rakkestad - Linkøping og tilbakelca.400mil. I tillegg kjørte Cilla, Fredrik og mange hjelpsomme rundt på leting etter henne!
De tre første døgnene ble hun observert, men deretter hørte vi ingen ting om henne. Til tross for etterlysning i avisen, radio, politi, taxisentralen, bussentralen osv. Etter snaue to uker ble hun sett i en forstad inn til Linkøping!
Og der satt hun bare og ventet på meg når jeg kom gående med de andre hundene lørdag 11.mars på morgenen. Hun gikk rett inn i flokken som om ingen ting hadde hendt. Hun var selvfølgelig sliten, men ellers i god form.
Kort stund etter hjemkomsten trodde jeg hun aborterte evnt valper - det var tegn som tydet på det! Men, den gang ei! I påsken synes vi at hun begynte å bli rund om magen og "kort på beina". På 63.dagen etter paring fødte hun 8 valper. Dessverre kom to av hannene døde, men en hannhund og fem tisper ser ut til å være i fin form!
***
This litter is maybe some sensation?
After the first - one and only - mating, Lillemor run away! She spend two weeks all by herself! She was seen the first days, but then nothing! We were all spending a lot of time looking for her - all friends in Sweden driving around every day, and we drove more than 4000kilometers Rakkestad - Linkøping! Thank you all very much for your help!
Then suddenly after almost two weeks she was seen at the railway to Linkøping!
The very next day, she just sat there waiting for us when Ola, Mina, Lina and me came along! I cann't describe the feeling!
After some days we thought she miscarriage, but NO! Here is the result!

10/5
*May 10th.
Nr.2 døde i natt. Jeg tror nok at Lillemor var uheldig og la seg på henne! Jeg lå ved siden av og sov, men merket ingen ting!
*No.2 died tonight! I guess Lillemor was unlucky and laid on her! I was laying next to her, but didn't notice!

1.dag / Day 1.
| | | |
| --- | --- | --- |
| No.1 tispe/female - 445gr | No.2 tispe/female - 488gr | No.3 tispe/female - 540gr |
| No.4 hann/male - 535gr | No.5 tispe/female - 504gr | No.6 tispe/female - 586gr |