P-KULL/P-LITTER
f.18.09.2005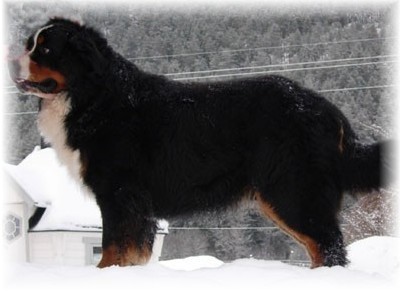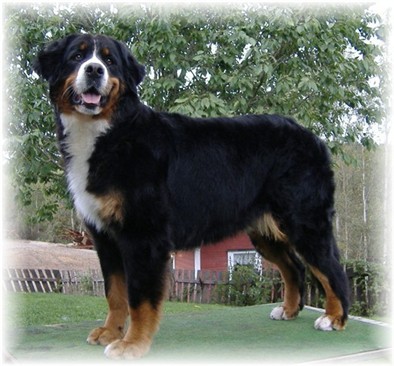 "Birger" "Kela"
N Such

Nøklebyåsen's

Oliver Twist

Such

Bernerdalens Cayenne

MultiCH MultiV

Sennetta's Sixten

NORD INTuch NV-02

Be my Baby av Hiselfoss

Hanna Hottentott

av

Hiselfoss

N Such

Chianti Catinka

av

Hiselfoss

MultiCH MultiV

Sennetta's Sixten

Simiti's After Eight

Bauernhofs Jenna
Nok et "stort" kull er født!
Det var egentlig tre valper, men den første som kom var dessverre død! Han var stor - 703gr - og det tok nok for langt tid før vi fikk ham ut! Prinsessa kom lett og greit, mens Prinsen fikk litt hjelp på veien! De er korrekte tegnet, og ingen synlige defekter så langt!
Kela var flink og tålmodig! Tok imot den hjelpen hun fikk uten klager!
P-kullet føyer seg inn i rekken som "lite og ekslusivt" fra Hiselfoss 2005!
***
Once more a "big" litter is born!
It was three puppies, but the first one was unfortunately dead! He was big - 703gr - but it took too much time to get him out! The Princess kom easely, but the Prince needed some help! They have correct signs, and no visible defects!
Kela was good and patient! She took all the help she needed without any complaints!
The P-litter is another "small and exclusive" litter from Hiselfoss 2005!
| | | | | |
| --- | --- | --- | --- | --- |
| Fødsel/Birth | Dag/Day 1 | 1 uke/week | 2 uker/weeks | |
| | 730gr | 1496gr | 2495gr | |
| | 640gr | 1350gr | 2252gr | |
Begge valpene er "solgt"!
*Both the puppies are "sold"!
3 UKER
*3 WEEKS
Valpene har flyttet inn på kjøkkenet! Ola var henrykt, og trodde valpene var hans nye leketøy!
*The puppies have moved into the kitchen! Ola was satisfied, he thought they were his new toys!
Petra Pondus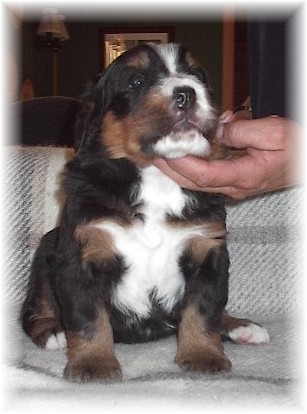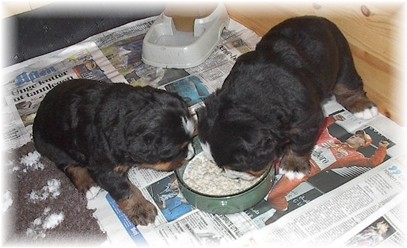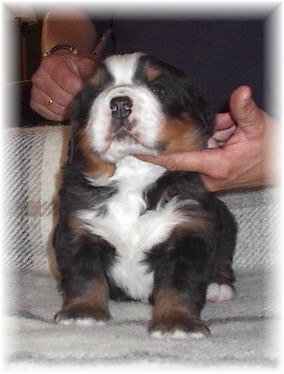 De har fått sitt første måltid med mat, og det smakte fortreffelig!
*They have got their first meal, and it tasted great!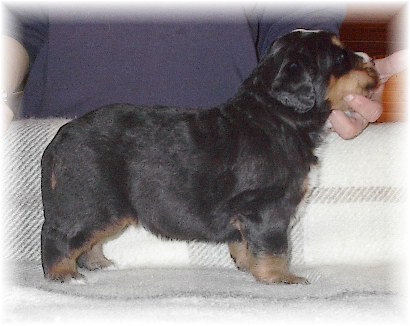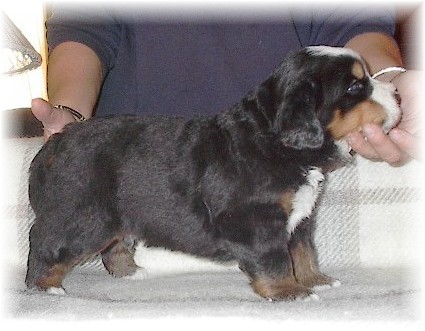 Petra - 3245gr Pondus - 3350gr
4 uker
*4 weeks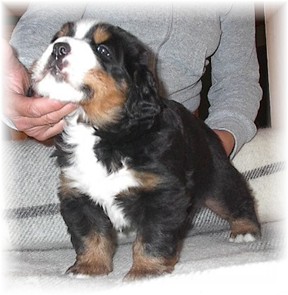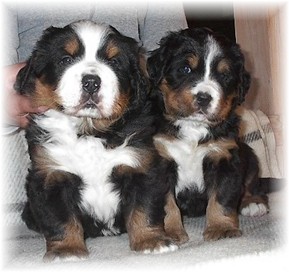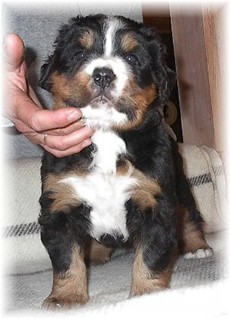 Pondus - 4390gr Petra - 4310gr
Pondus og Petra har blitt 4 uker, maten smaker godt og de har fått sin andre markkur!
De har også begynt å være litt ute av valpekassa sammen med resten av flokken!
*Pondus and Petra are now 4 weeks old, food tast delicious and they have had their second treatment against worms!
They have also started their life outside the welpingbox, together with the crowd!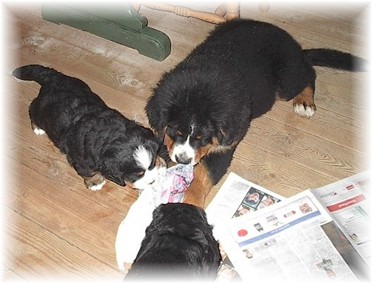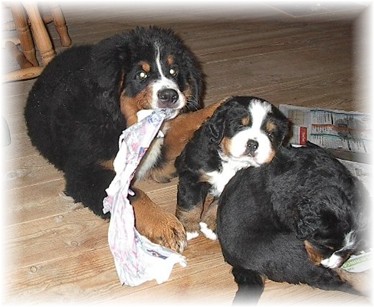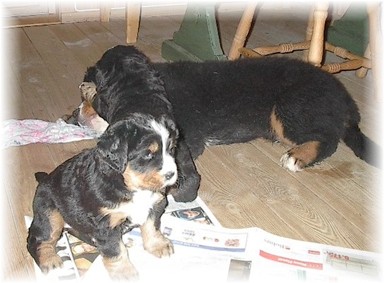 Ola leker med valpene på kjøkkengolvet!
*Ola is playing with the puppies in the kitchen!
5 uker
*5 weeks
Petra - 5800gr

Nå reiser vi på ferie til familien som mamma Kela bor hos! Dette er noe Axel og Tale er veldig glade for!

*We are now going on vacation to the family mum Kela lives with most of the time! This is something that make Axel and Thale very happy!

Pondus - 6100gr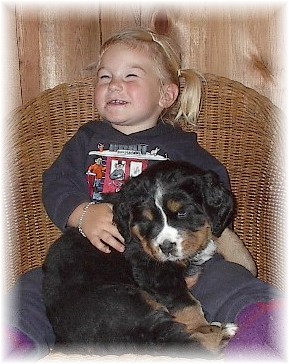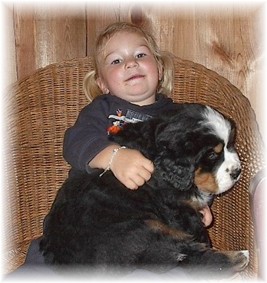 Nå har vi nesten ikke plass i fanget til Mille lenger!
*We are almost to big to sit on Mille's knee!
6 uker
*6 weeks
Vi er tilbake etter 1 uke på Slemmestad - fulle av fart og spenning! Det var fint å møte igjen resten av gjengen - og særlig Ola! Synes det er flott om utgangsdøra står åpen, slik at vi kan springe ut og inn akkurat som vi vil!
***
We are back from one week at Slemmestad - fit for fight! It was great to meet the rest of the crowd again - and specially Ola! We think it's nice when the door is open so we can run out and inside again just as it pleases us!
| | |
| --- | --- |
| Petra - 7100gr | Pondus - 7700gr |
7 uker
*7 weeks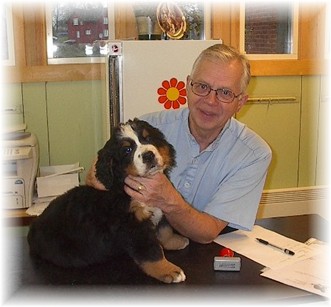 Gunnar og Pondus
Valpene har nå passert 7 uker, og i dag var de hos Gunnar i Askim til helsesjekk! Alt sto bare bra til, og de kan nå forberede seg på snart å flytte til sine nye hjem!
***
The puppies have passed 7 weeks, and today they visit our veterinary Gunnar in Askim to get their health certificate. Everything were OK, and no they are soon ready to move into their new homes!
8 uker
*8 weeks
Petra har forlatt redet, og flyttet med Berit og Jarle Solberg hjem til Flekkefjord! Der venter Julian og Freidige Frille av Hiselfoss i spenning!
* Petra has moved with Berit and Jarle Solberg home to Flekkefjord! Julian and Freidige Frille av Hiselfoss are waiting for them!
Pondus frister tilværelsen i Arendal hos Bent Harald, Hanne Christine, Sindre og Bente Bergsand! Litt uvant er det nok å være uten andre firbeinte familiemedlemmer, men han venner seg nok fort til det!
*Pondus is living in Arendal with the Bergsand family! It is a big different for him not to have other dogs in the house, but I think he will get use to it soon enough!