R-kull / R-litter
f.06.01.2006

| | |
| --- | --- |
| "Tinka" | |
| | "Frodo" |
N S FIN NORDuch

Odenhills Frodo

S DKuch

Macis Zam Mont Morzy

DECH VDHCH

Ulfilas Vom Stockle

Norton

N Such

Chianti Catinka

av Hiselfoss

Multi CH multi V

Sennettas Sixten

Sennetta's Noa-Noa

Yasmine av Milkcreek

| | |
| --- | --- |
| | |
| gutta/boys | jentene/girls |
| | | | | |
| --- | --- | --- | --- | --- |
| | | | | |
| | | | | |
| 595gr | 515gr | 584gr | 500gr | 593gr |
Fem fine valper ble født i løpet av 3 1/2 time. Tinka var rolig, men jeg hadde mistanke om at det var mer. Etter 2 timer kom det en flott hannhund, men den var dessverre død.
Tinka tar godt var på valpene sine, hun har jo etterhvert blitt en erfaren mor! Alle har lagt på seg fra første stund, og alt er rolig og fint i valpekassa!
***
Five nice puppies were born in 3 1/2 hours. After that Tinka was calm, but I suspected one more. After 2 hours a beautiful male was born - dead!
Tinka takes very good care of her puppies, she has some experience as a mum! Everybody have increased their weight!

1 uke
*1 week
| | | | | |
| --- | --- | --- | --- | --- |
| Nr.1 | Nr.2 | Nr.3 | Nr.4 | Nr.5 |
| | | | | |
| 1175gr | 1026gr | 1283gr | 1122gr | 1306gr |
Mor og barn har det bra, og de vokser og trives. Oppdretter har pene dager, Tinka tar hand om alt etter alle kunstens regler!
**
Both Tinka and the puppies are doing well! Not much work for the breeder yet - I'm just enjoying!

2 uker
*2 weks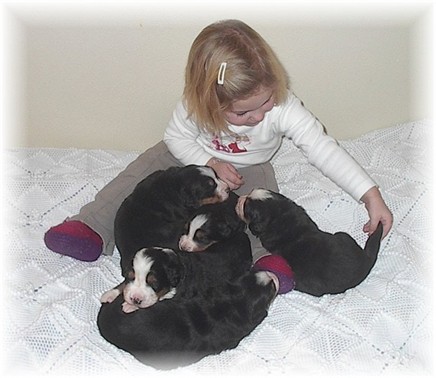 Her ligger oppdretter rett ut i influensa, men Mille tar seg av oss etter beste evne. Her sjekker hun for evnt haleknekk, men alt ble funnet i orden!
Vi har fått vår første kur med Banminth, og vi legger godt på oss!
Nr.1-1816gr. Nr.2-1540gr. Nr.3-1940gr. Nr.4-1703gr. Nr.5-2037gr
Our breeder has got the influnza, but Mille do her best to help!
We will try to take more pictures later on!

3uker (om to dager)
*3weeks (in two days)
Nå er oppdretteren på beina igjen, så vi har tjustartet tre ukers fotograferingen!
Vi har blitt veldig flinke til å rusle rundt på beina, men for det meste sover eller spiser vi!
***
We have taken the three weeks pictures - two days early!
We manage to walk around in the welpingbox very well, but most of the time we are eating or sleeping!
Vekt ved 3 ukers alder
*The weight at 3 weeks
No.1-2475gr. No.2-2200gr. No.3-2660gr. No.4-2305gr. No.5-2765gr
I løpet av helgen vil valpene få sitt første måltid med fast føde!
*The puppies will - during the weekend - get their first meal!

4 uker
*4 weeks
| | | | | |
| --- | --- | --- | --- | --- |
| | | | | |
| No.1-3617gr | No.2-3406gr | No.3-3955gr | No.4-3455gr | No.5-3990gr |
Matlysten er det ingen tingen å si noe på - alt sklir ned på høykant!
*Nothing the matter with our appetite!

Snart 5 uker!
*Soon 5 weeks!
| | | | |
| --- | --- | --- | --- |
| | No.1-female | | No.2-female |
| | No.3-male | | No.4-female |
Fotograf

Cathe Kjoshagen

No.5-male
Vekt 5 uker / weight at 5 weeks!
No.1-5000gr. No.2-4600gr. No.3-5200gr. No.4-4700gr. No.5-5350gr.
Mina fikset vi lett!

*Mina was easy to put down!

11.02

I dag har valpene flyttet opp til resten av flokken, noe de satt stor pris på alle sammen.

De fikk også sitt første møte med kulde og snø - det var bare moro!

***

Today the puppies moved up to the rest of the crew, and they all enjoyed!

The puppies even got their first meeting with snow and the colld outside - it was all just fun!

6uker +
*6weeks +
Flere bilder! / More pictures!
Ettersom jeg var travelt

opptatt med avreise til Danmark,

ble bilder og vekt 3 dager forsinket!

No.1 - 6600gr

Because I was going to Denmark for the weekend, the pictures and weight are 3 days late!
| | |
| --- | --- |
| Ragna Rekkverk - 6900gr | Rabble-Rouser - 7000gr |
| No.4 - 6200gr | Risør Ruggen - 7400gr |

7uker
*7weeks

Valpene stortrives om dagen. Det har blitt varmere i luften slik at døra kan stå åpen mesteparten av dagen! Dette setter de stor pris på, og det sparer også oppdretter for mye gulvvask!

The puppies enjoying running outside and in, all day long. The weather has been warmer, and we can let the door open! The puppies love it, and it saves the breeder a lot of floor washing!

Bildene er tatt på dagens morgentur!

***

The pictures are from today's morning walk!

8uker
*8weeks
Valpene har blitt 8 uker, og tiden er inne for å flytte til sine nye hjem! Gutta var de første som reiste!
*The puppies have been 8 weeks old, and it's time to move into their new homes! The boys were the first to go!
| | | |
| --- | --- | --- |
| | | |
Risør Ruggen har blitt med AnneGunn Hundhammer hjem til Risør! Han veide ikke mindre enn 10300gr - 8 uker gammel!
*Risør Ruggen has moved ti Risør with AnneGunn and her crew! He was 10300gr when he left!
| | | |
| --- | --- | --- |
| | | |
Nestemann ut var Rabble-Rouser (9600gr). Sammen med Bert Rodink reiser han med fly hjem til Karla Zuurhar, Kennel Rijkenspark i Nederland!
*Then Rabble-Rouser are ready for travelling with an airplane together with Bert Rodink. Back to The Netherlands where Karla Zuurhar is waiting for them! We just hope and pray they will not check Rabble's weight (9600gr) at the airport!
Rock'n Roll Roxie(8200gr) har flyttet til Colleen og Greg Cox i USA (Snowy Pines BMDs)! Flyturen gikk fint, og hun har funnet seg godt til rette i sitt nye hjem! Kanskje savner hun snø og kulde?
Rock'n Roll Roxie (8200gr) has moved to Colleen og Greg Cox in USA (Snowy Pines BMDs)! The flight went well, and she has settled down nice in her new home! Maybe she misses all the snow?
Ragna Rekkverk (8300gr) har tatt turen over grensen til Sverige og flyttet inn hos sin pappa! Der holder Bosse og Gunn også til på Kennel Tamikas!
Ragna Rekkverk has moved across the boarder to Sweden! She lives together with her dad - Frodo - and Bosse & Gunn, Kennel Tamikas in Ørebro!
Rikke, 12uker

*Rikke, 12 weeks

Laila, Rikke og John
Laila og John Hanssen på Nestlandsvatn (Jesperbakken kennel)har tatt imot Rikke Rimtusse(9300gr) med åpne armer! Vi håper de får masse glede av henne!
Laila and John Hanssen (Jesperbakken kennel) have taken Rikke Rimtusse(9300gr) with open arms! We wish them a long and happy life together!