B-kull/litter
f.25.07.2008

| | |
| --- | --- |
| "Frodo" | "Lina"-2dager før fødsel/2days before the puppies are born |
N DK S NORDuch

Lille Frodo Lommelun

av

Hiselfoss

CANCH Such

Honey-Mix Bravo

S Nuch

Dalaleds Honey-Bunny

Hanna Hottentott

av Hiselfoss

N Such Chianti Catinka

av Hiselfoss

N S DK NORD INTuch

Enslige Evelina

av

Hiselfoss

Multi CH Multi V

Sennetta's

Sixten

Dajan vd Hausmatt

N S DK NORD INTuch

Be my Baby

av

Hiselfoss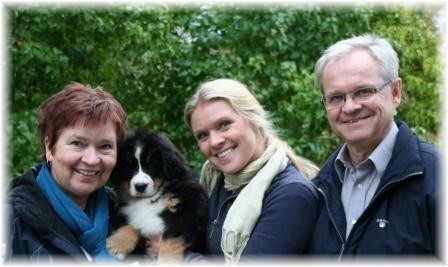 Sydney er nå vel plassert i Moss hos Grete, Tine og Ivar.
*Sydeny is home with Grete, Tine and Ivar in Moss, not far away.

Bella "Clara" Bernstamm has arrived to Juha, Tommi and Berrta in Finland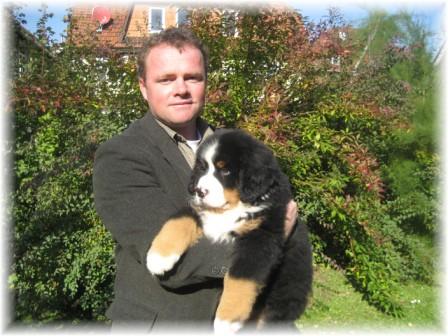 Bernstein is with Lorenz family in Germany

Brunello "Grappa" is home in Arizona with Kurt & Marcia Zuger.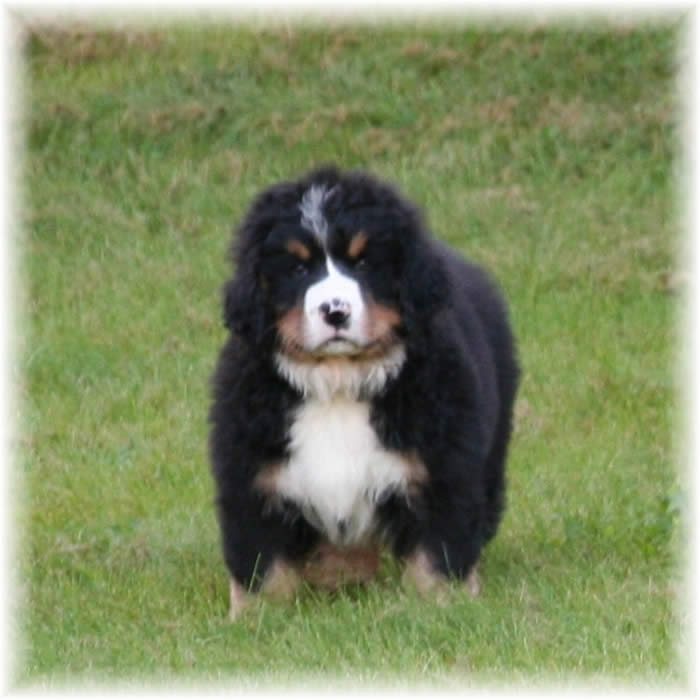 Grappa's siste minutter på norsk jord.
*Grappa's last minutes at Norwegian ground.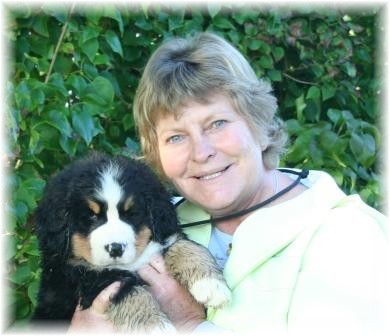 Beowulf har reist avgårde til Spania sammen med Priscilla.
Beowulf is off to Spain together with Priscilla.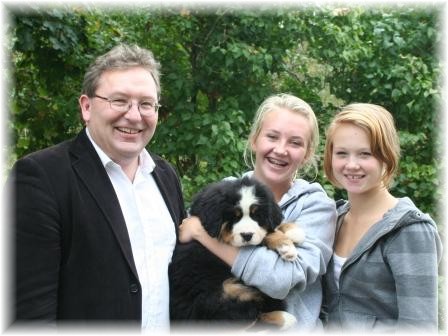 Bastian har reist hjem til Nesoddtangen med Ketil, Maria og Maijken. Der venter en dansk svensk gårdshund på hans bekjentskap!
*Bastian has gone home to Nesoddtangen with Ketil, Maria and Maijken. They also have one more dog who is a bit older than Bastian. We hope they will enjoy eachothers company!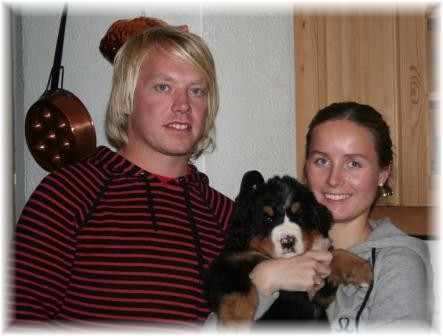 Nestemann ut var Bianca. Hun reiste med Håkon og Inger-Marie til Horten. Der skal hun forhåpentligvis gå i sine far's fotspor, og snuse litt rundt i lydighetsringen.
*The next to go was Bianca. She is moving in with Håkon and Inger-Marie in Horten. Maybe she will do as her father, and be testing the obedience ring in the future?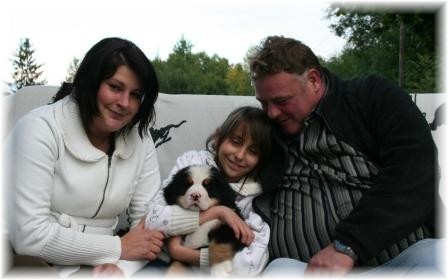 Båtsmann var den første som reiste avgårde til sitt nye hjem. Da han kommer til å fungere som gårdsgutt hos Magdalena, Dominika og Erik på Tømmerås Gård i Vestfold, ble hans fulle og hele navn Båtsmann Gårdsgutt.
*Båtsmann was the first puppy to leave for his new home. Since he in the future will be a farmer boy at Tømmerås Farm in Vestfold, his second name will be Gårdsgutt (Farmer boy). He will be very well taken care of by Magdalena, Dominka and Erik - that's for sure!

7uker/weeks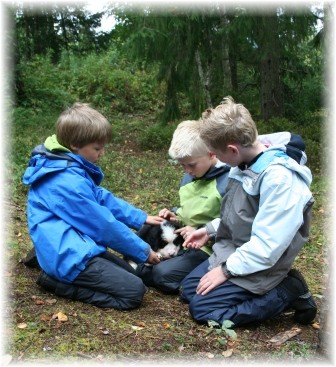 Fjerde klasse på Bergenhus skole - hvor jeg jobber - tilbringer en dag i uken i skogen eller i en av parkene i Rakkestad. I forrige uke var de miljøarbeidere og plukket masse søppel. Premien var at denne uken skulle valpene komme på besøk i skogen. Det satte både elevene og valpene stor pris på. Lina var selvfølgelig med for å se etter sine små, og gi dem en liten melketår. Hun var utrolig rolig der hun stod med valpene hengende i puppen, mens over 40 unger konstaterte at hunder er pattedyr!
The children at school have one day every week out in the forest or in a park. Last week they did environmentak work and picked a lot of rubbish in the forest. The prize was a visit from the puppies this week. The children were very enthusiastic, and the puppies seem to enjoy as well. Of course the had their mum to look after, and feed them.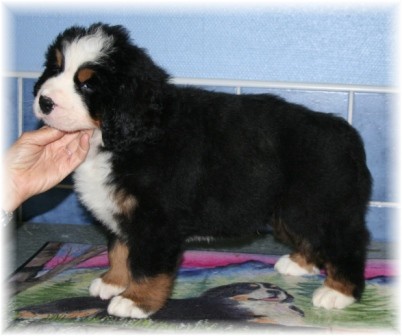 Male 1 "Bastian"
| | |
| --- | --- |
| Male 2 "Bernstein" | Female 3 "Bianca" |
| Female 4 "Bodil" | Female 5 |
| Male 6 | Male 7 |
| Female 8 "Sydney" | Male 9 "Båtsmann" |

6uker/weeks
| | |
| --- | --- |
| | Male no.1 - 5400gr |
| | Male no.2 - 5660gr |
| | Female no.3 - 4430gr |
| | Female no.4 - 4550gr |
| | Female no.5 - 5370gr |
| | Male no.6 - 4680gr |
| | Male no.7 - 4730gr |
| | Female no.8 - 3685gr |
| | Male no.9 - 4720gr |

5uker/weeks
Vi tilbringer mesteparten av dagene ute på verandaen, og det gjør nok sitt til at vi sover godt hele natten. Vi spiser våre fire måltider pr. dag - tørrfor og rått kjøtt. I dag fikk vi vår andre ormkur.
| | |
| --- | --- |
| | Male no.1 - 3980gr |
| | Male no.2 - 4250gr |
| | Female no.3 - 3055gr |
| Female no.4 - 3270gr | |
| | Female no.5 - 3940gr |
| | Male no.6 - 3280gr |
| Male no.7 - 3600gr | |
| Female no.8 - 2420gr | |
| Male no.9 - 3230gr "Båtsmann" | |
We spend most of the days outside and that make us sleep all night!
We eat our 4 meals a day - dry food and fresh meat. Today we got our 2nd. worm treatment.

4uker/weeks
| | | |
| --- | --- | --- |
| B1-2640gr male | B2-2910gr male | B3-1980gr |
| B4-2210gr | B5-2640gr | B6-2160gr male |
| B7-2465gr male | B8-1550gr | B9-2080gr male |

3uker/weeks
Det ser kanskje ut som om vi har badet, men vi har bare prøvd oss i matfatet. Det var slett ingen dum erfaring! Etterhvert har vi kommet opp i 3-4 måltider pr.dag, så nå legger vi godt på oss.
Disse bildene er allerede gamle før de blir publisert, men matmor har hatt det litt travelt de siste dagene!
| | | |
| --- | --- | --- |
| Male1-1570gr | Male2-1845gr | Female3-1150gr |
| Female4-1260gr | Female5-1650gr | Male6-1295gr |
| Male7-1526gr | Female8-1006gr | Male9-1230gr |
It almost looks like we have been taking a bath, but we have had our first meals. It tasted good, and now we get 3-4 meals every day!
We are all doing fine.
Sorry for the late updates, but we have been busy!

4.august
Det ble dårlig med oppdateringer for B-gjengen etter en uke, og her er unnskyldningene.
På fredag var Lina litt tuss på morgenen, og hun hadde feber. Grunnen til dette viste seg å være betennelse i den ene bakerste spenen. Antibiotika og massasje med grønnsåpe ble satt i gang. Tempen gikk nedover, men på lørdag ettermiddag var den oppe i 39,9*C. Juret rundt den betente spenen var veldig hardt, rødt og varmt. Selv om min alltid tilstedeværende vetrinær egentlig har ferie, stiller han opp og det blir gitt antibiotika i sprøyteform. Søndag gikk det hull bak spenen, og det kom ut masse materie. Nå er hun seg selv igjen, og temperaturen er ned i 38,5*C. Til tross for at hun ikke har hatt det godt disse dagene, har hun tatt seg godt av valpene og spist maten sin. Valpene har fått litt ekstra melk fra flaske, og det ser ikke ut til at de har tatt skade.
Dette er mitt 27.kull, og første gang jeg opplever jurbetennelse.
***
It was no updates at the B-crew after one week. It was because Evelina Friday morning had fever and mastitis in one of her tits. We gave antibiotic & gently massage and in the beginning it seemed to be better. But Saturday afternon she had very high fever again. Actually my veterinarian has vaccation, but he was - as always - very helpfull when I called him - Evelina got antibiotic injections. On Sunday the skin got a hole, and the materia came out. She is now feeling fine again, and we hope it will stay like this. During these days she has taken very well care of the puppies, and eaten her meals. We have given the puppies some extra milk, and they seem to feel fine.
This is my 27th. litter, and for the first time one of my girls gpt maestitt. I hope it will be the last time!

Lina fødte sitt femte og siste kull 25.juli 2008. De syv første kom greit ut, men så stoppet det opp. Hun var sliten, og det var veldig varmt i været. Gradestokken viste faktisk nærmere 40 grader i sola på morgenkvisten. Veterinær Gunnar Syliaas måtte trå til, og de siste to så også dagens lys. 4 jenter og 5 gutter i valpekassa. I tråd med Lina sine tidligere valper, var heller ikke disse spesiellt store, og de går litt ned i vekt de første døgnene. Men, de virker til å være i fin form og de får godt stell.
***
Lina gave birth to her 5th. and last litter 25th.July 2008. The first seven came out easy, but then it stopped. She was tired and the weather was very warm - nearly 40*Celcius in the sun that morning. With some help from our veterinarian Gunnar Syliaas the last two were out too. 4 girls and 5 boys in the puppybox. As usual her puppies do not have very high weight when they are born, and they also loose some weight the first days. But they seem to be in good condition, and they are well taken care of by their mum.
| | | |
| --- | --- | --- |
| B1-male(533gr) | B2-male(518gr) | B3-female(501gr) |
| B4-female(482gr) | B5-female(507gr) | B6-male(533gr) |
| B7-male(426gr) | B8-female(401gr) | B9-male(505gr) |