A-kull / litter
f.09.07.2008

| | |
| --- | --- |
| Pontoppidan (September 2007) | Mina (April 2006) |
N S DK NORD INTuch

Macis Kempe Dansk

N S DK NORD KLBCH INTuch KBHV-06

Ber Moscows

Elvira Maddigan

Multi CH MultiV

Sennetta's Sixten

Ber Moscow's

Miss Anastasiya

Nuch

Mina Mammajente av Hiselfoss

N S FIN NORD INTuch USCH

Indian Hill's

Showtime V Keilissa

USCH

Indian Hill's Baby Be-Onyx

N S DK NORD INTuch

Enslige Evelina av Hiselfoss

Multi CH MultiV

Sennetta's Sixten

N S DK NORD INTuch

Be my Baby av Hiselfoss

8uker/weeks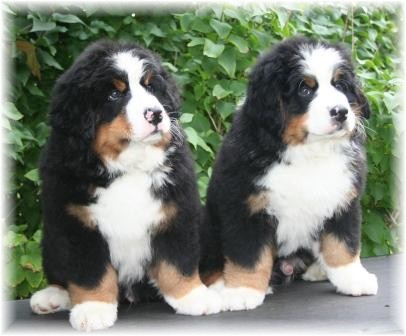 Alex Berni (9800gr) - Asbjørn Bøllefrø (8950gr)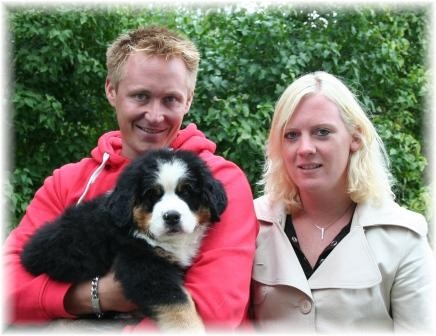 "Balder" har reist med Bjørnar og Åshild hjem på Rolvsøy. Kanskje han kan bli med dem på jobb etterhvert og fungere som politihund? Det hadde vært nye stier for en berner.
*Balder has gone home with Bjørnar and Åshild. Maybe he could come with them at work as a police dog? That would have been something new for a bernese!
| | |
| --- | --- |
| | Asbjørn Bøllefrø "Balder" |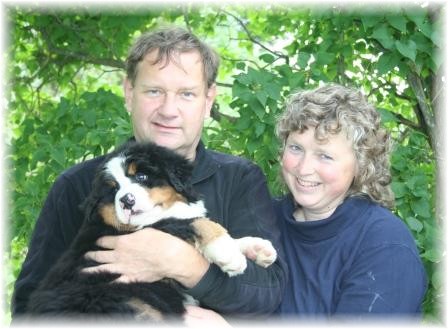 Alex "Berni" har reist hjem til Rjukan med Frank og Maj-Kirsti!
*Alex Barni has gone home to Rjukan, N together with Frank and Maj-Kirsti!
| | |
| --- | --- |
| | Alex "Berni" |


7uker/weeks
Gutta nyter livet, og lever fortsatt på mors næringsrike melk. De får tilbud om annen mat, og de tar en smak i "ny og ne". Men, nå er det bare en uke igjen, så må de nok pent finne seg i å måtte tygge i seg sin egen mat.
| | |
| --- | --- |
| Asbjørn - 7800gr | Alex Berni - 8350gr |
The boys still enjoy Mina's milk, but only one more week to go. Then life reality starts, and they will have to take what ther get!

6uker/weeks
Gutta koser seg ute med Aleksander

*The boys spend some time with Aleksander

Vi har fått selskap - dette var spennende!

*We got company - would have been nice to be at the same side of the fence!
| | |
| --- | --- |
| Asbjørn - 6700gr | Alex Berni - 7000gr |

5uker/weeks
Nå har vi kommet oss hjem fra hytta, og hverdagen er over oss igjen. Gutta trives, men har ikke den helt store sansen for fast føde. Mamma's melk er mer enn godt nok. A1- skal etterhvert flytte til May-Kirsti og Frank på Rjukan. De jobber nå iherdig med å finne et feiende flott navn på A - jeg venter i spenning. A2 skal, når Åshild og Bjørnar kommer hjem fra bryllupsreise på Maldivene, bosette seg på Rolvsøy. Hverdagsnavnet hans blir Balder, så da går oppdretter for Asbjørn på stamtavlen.
De tilbringer dagen i frihet sammen med resten av flokken. Dørene står åpne nesten døgnet rundt, og de klarer nå fint å komme seg ned de to trinnene og ut på gresset. Rumpene er litt tunge, så de trenger et aldri så lite puff bak for å komme seg opp igjen.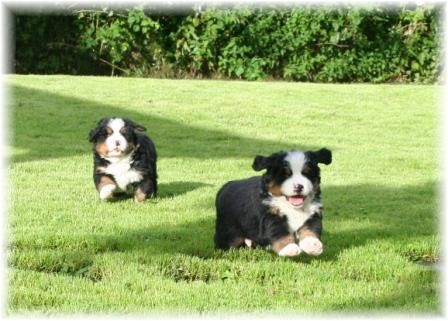 We are back home again, and the boys enjoy life. They still prefer Mina's milk instead of anything else. The doors are open wide most of the day, and they run around with the rest of the crew. They have no problems at all to get down the stairs in front of the house, but they need some help back up again.
A1 will move not far away together with Åshild and Bjørnar. They want to call him Balder, but on the pedigree it is Asbjørn. A good old norwegian name. May-Kirsti and Frank are still looking for a name for their third bernese. Their last one was a son of my dear Conan.
Asbjørn"Balder" - 5700gr
A2 - 5800gr

4uker/weeks
Gutta tilbringer det meste av dagene ute - med kjøkkendøra åpen slik at de kan gå inn om de måtte ønske det. e har fått sin andre omgang med markkur, ellers er det ennå bare melk som står på menyen.
Begge guttene er lovet bort.
***
The boys spend most of the days outside. The door tp the kitchen is open, so they have the oppertumity to get inside if they want to. They have got their seciond treatment with Banminth, but except from that the menu is milk!
Both the boys are spoken for.

3uker/weeks
| | |
| --- | --- |
| A1-3510gr | A2-3733gr |
I dag har vi vært litt ute for første gang, og det var bare deilig!
*Today we have spend some time outside, and we apprisiated it very much!

2uker/weeks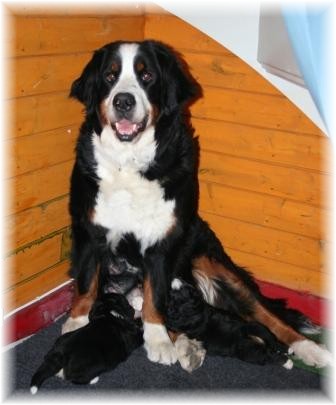 Mina har flyttet ned i stua med valpene for å overlate barselavdelingen til Lina. Her har de fått en fin plass under trappa, og dessuten synes Mina det er fint med litt mer selskap rundt seg. Det er ikke så mye å holde styr på for henne med bare to i kassa.
*Mina has moved downstairs into the livingroom with her boys - Lina will need the puppybox in a day or two.
Mina seems to like the company with the others. She does not have that much to do with only two.
| | |
| --- | --- |
| A1 - 2705gr | A2 - 2630gr |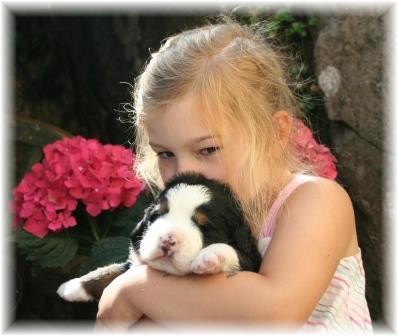 Mille & A1
Mille er på hytta om dagen, så det mangler ikke på kos i valpekassa.
*Mille is here, and she likes to spend a lot of time with the puppies.

1uke/week
Her er alt i skjønneste orden. Mina tar seg godt av sine to små, jeg hører ikke annen lyd fra valpekassen enn når de to fleskepølsene svelger melk!
Everything is fine, and Mina has not a hard work with her two boys. The only sound I can hear from the puppy box is when the boys are drinking milk - I they do get enough!
A1 - 1646gram
A2 - 1684gram

9.juli 2008 fødte Mina tre valper i løpet av 2,5timer på hytta i Ullerøy. Dessverre var den ene valpen død(tispe), men de 2 gutta var i fin form. De la begge to godt på seg allerede første døgnet.
***
9th.July 2008 Mina had tree puppies in 2,5 hours at our summer house in Ullerøy. Unfortunately one of them was dead(girl), but the two boys was fine. They both increased their weights the first 24 hours.
Dag1 / Day1
| | |
| --- | --- |
| A1(706gr) - 806gr | A2(667gr) - 761gr |